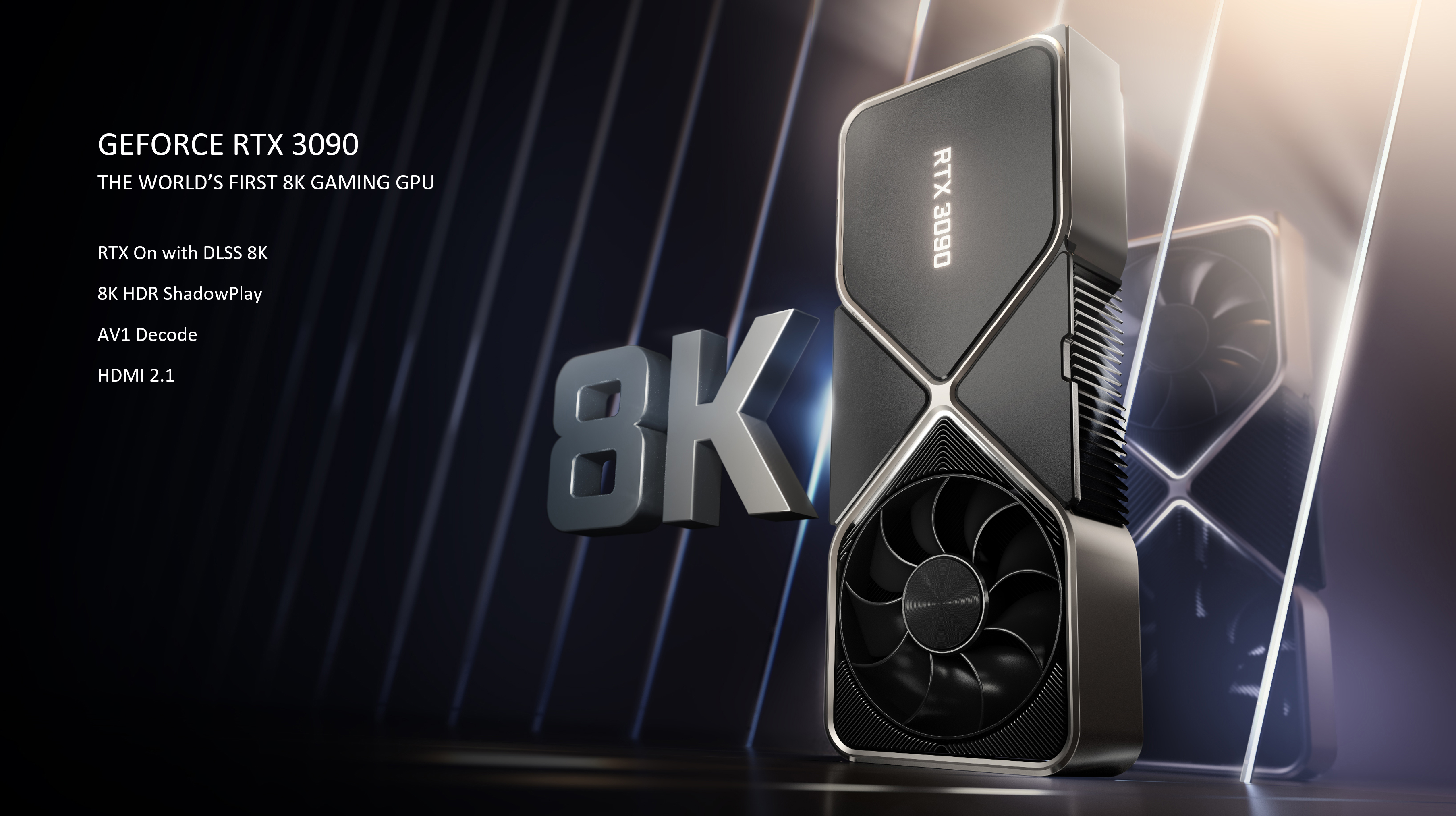 Source: NVIDIA
The RTX 3090 is a high-end graphics card released by NVIDIA in September 2020 as part of its Ampere architecture lineup. It is currently one of the most powerful consumer GPUs available on the market,boasting 10496 CUDA cores and 328 Tensor Cores, which enable it to deliver exceptional performance in gaming, rendering, and other computationally intensive tasks. It also comes equipped with 24 GB of GDDR6X memory, offering ample room for complex and resource-intensive workloads. The RTX 3090 is designed for creatives, gamers, and professionals who demand top-of-the-line performance.
Top Features
This is a high-end GPU perfectly designed for demanding workloads such as gaming, 3D rendering, and machine learning. Some of its top features include:
Ray Tracing: Real-time ray tracing, which enables more realistic lighting, shadows, and reflections in games and other applications.
AI Acceleration: Dedicated AI hardware that can accelerate machine learning and other AI workloads.
Support for DLSS: NVIDIA's Deep Learning Super Sampling (DLSS) technology, which can improve performance and image quality in supported games.
8K support: The RTX 3090 is capable of delivering crisp and clear graphics with stunning detail, ideal for smooth and seamless 8K gaming and content creation experiences.
The 3090 is designed for exceptional gaming performance with its powerful architecture and high memory bandwidth. It also boasts top-of-the-line rendering capabilities for video editing, 3D modeling, and other creative applications, which makes it perfect for both gaming intensive and demanding creative workloads.
The RTX 30 Series
The NVIDIA RTX 30 Series, which includes the RTX 3070, RTX 3080, and RTX 3090, represents a significant leap forward in GPU technology, providing gamers and creators with unprecedented levels of performance and capabilities, making it a top choice for anyone looking for the best performance and features available.
The 30 Series' overall higher core counts, memory bandwidth, and faster clock speeds enable these GPUs to handle more complex and resource-intensive workloads. For example, the RTX 3080 has 8704 CUDA cores and 10 GB of GDDR6X memory, while the RTX 3090 has a whopping 10496 CUDA cores and 24 GB of GDDR6X memory.
This series of GPUs also introduces new technologies like NVIDIA Reflex and NVIDIA Broadcast, which significantly enhance the gaming and streaming experience. NVIDIA Reflex reduces input lag in games, providing a more responsive gaming experience, while NVIDIA Broadcast offers AI-powered background noise removal, virtual backgrounds, and auto frame features for streamers.
Looking for a sweet deal on the RTX 3090?
Tisk offers the perfect place for gamers who want to upgrade their gaming experience without breaking the bank. We professionally refurbish gaming parts, including GPUs and CPUs, that are guaranteed to be in top condition. Unlike other secondary marketplaces that exist today, every part sold on Tisk is properly cleaned and packaged to ensure that it arrives in pristine condition. By buying a GPU from Tisk, you can be confident that they are getting a quality product at a fair price. You can shop for your favorite CPUs and GPUs risk-free with full peace in mind that every part you receive from us will literally be as good as new. Additionally, Tisk's commitment to quality and customer satisfaction means that users can shop with peace of mind, knowing that any issues with their purchase will be promptly and professionally resolved.